03 May

Colour Group (GB) Turner Lecture: Barbara Flückiger
The Committee of the Colour Group (Great Britain) is thrilled to announce that Barbara Flückiger is the 2023 Turner Lecturer and recipient of the Turner Medal.
Dr Barbara Flückiger has made enormous contributions to the field of colour in film, through her research, archival and conservation work, spanning 94 articles and 5 books. Her work with archival films, the materiality of colour and the processes used have enhanced our understanding of colour in film, and have improved the methods used to preserve it. Her Historical Timeline of Colours, including over 20,000 entries has revolutionised colour research and enabled a new generation of researchers in this field. A full biography of Dr Barbara Flückiger's work can be found at the bottom of this page, kindly provided by Dr Kirsten Moana Thompson.
For the 2023 Turner Medal lecture, Barbara Flückiger will present:
The Material Aesthetics of Len Lye's Experimental Color Films.
In the 1930s Len Lye created a series of experimental animation films in the 1930s using different film color processes, namely Dufaycolor, Gasparcolor and Technicolor No. IV. Therefore, his work is a treasure trove for the analysis of the material aesthetics of these color films. By investigating the idiosyncrasies as well as the differences between Len Lye's films in relation to the technical and physical properties of the color processes applied, we gain deeper insights into how the films' material foundations shape his aesthetic production. In a broader context, his works relate to avantgarde practices in the wake of the German absolute films of the 1920s and their color experiments in particular. By foregrounding colors' pure sensory presence in brillant saturated hues, these films are the antithesis to the often-cited chromophobia attributed to high culture.
The Turner Medal event will take place after the AGM, on the 3rd May, 2023. Please book tickets for the AGM and the Turner Medal Lecture separately.
Turner medal event proceedings:
3:30-4:30 Barbara Flückiger Lecture
4:30-5:00 Q & A
5:00-6:00 Refreshments in the Pavillon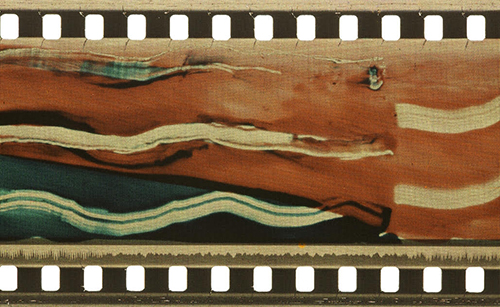 Professional biography of Dr Barbara Flückiger, kindly provided by Dr Kirsten Moana Thompson
Dr Barbara Flückiger has been a pioneering researcher in a broad range of topics relating to color, with specializations in the material, technological, and historical developments of different color technologies; color aesthetics, and the digitization and restoration of archival color films. She has also conducted important research in sound cinema, computer generated imagery and virtual effects. I will speak in more detail to three specific areas in which she has been an outstanding leader in the research of color.
First, the creation of The Historical Timeline of Film Colors an invaluable Digital Humanities database of more than 20,000 entries, photographs, patents, and technical drawings, along with hard to find primary and secondary source materials, that has revolutionized color studies. It has become a platform for the centralization of information on color studies for scholars working across the world and its high-resolution microphotography of different color film emulsions and film strips from leading archives in London, New York, Los Angeles, Amsterdam, Tokyo and across the world, has opened up and diversified access to these resources. Her meticulous photography, scanning and digitization practices have made these resources available to color scholars and graduate and undergraduate students around the world, who benefit every day from her foundational work in this field.
Second, her published research into the technical issues relating to scanning and microphotography of color film has been invaluable to archives and cinematheques around the world in better understanding and improving color quality in the digitization and restoration of fragile nitrate color film, especially in earlier color processes like Kinemacolor and Technicolor, as well as many other later color processes like Eastmancolor. Her scholarly attention to the affordances of color scanners and the implications these have for shaping our perception of color aesthetics in specific films is an ongoing and vital issue in color film restoration and digitization. She has played a leading role in raising these issues and proposing new technological solutions and qualitative improvements to digital scanning.
Finally, her work for the Disney studio which has also worked with the Getty Institute in researching  the preservation of animation cels in the Disney Animation archive, demonstrates the very best in academic-community partnerships. Dr Flückiger's award-winning research in color studies has been funded by Harvard University, the European Research Council (ERC) and European Commission, the University of Zurich, the Free University of Berlin, the Getty Foundation, and Disney Studios. Since 2001 she has developed and led many research projects funded by the Swiss National Science Foundation and the Swiss Commission for Technology and Innovation. Dr Flückiger has published an astonishing 94 articles and 5 books, of which the full list can be seen here. A select number of these publications is listed in the citations attachment.
Since 2020 she has been a member of the Identification Committee for the European Research Council, and in 2021 she became a member of the advisory board planning for a new exhibition on color film called "Color in Motion" to be shown at the Academy Museum of Motion Pictures in Los Angeles. In 2019 she was awarded a Joint Technical Award (JTS) from the Coordinating Council of Audiovisual Archives Associations (CCAAA) "for extraordinary contributions to the technology of the audiovisual archiving field" and most recently, in October 2022 the James Lindner Archival Technology Medal from the United States Society of Motion Picture and Television Engineers (SMPTE), for "her outstanding research focused on the digitization and restoration of archival color films."
Dr Flückiger's contributions to the field have enhanced our understanding of the ways in which color materiality and color technological processes shape how we perceive color in film. Her creation of the historical timeline of colors has quite simply revolutionized color research, offering archival resources, rare trade publications, patents, and other research materials to a wider audience of color scholars and students. Through the historical timeline, researchers and lovers of cinema can see archival quality reproductions of color film, from hand painted, tinted and toning examples to many other less well-known color processes, from Brewstercolor to the Handschiegel process. With a succession of grants over the last twenty years, Dr Flückiger's research has been recognized internationally by a wide variety of award granting bodies. Her development of multiple color conferences has brought together scholars from around the world, and stimulated new research. Most importantly, she has mentored and supervised an entire new generation of doctoral students who are already contributing to color studies scholarship. Her publications and scholarly research place her at the very center of leading color researchers today, and I can think of no other scholar who is more deserving of the Turner medal.
– Words by Dr. Kirsten Thompson
Professor and Director of Film and Media, Seattle University