01 Feb

COLOUR IN THE CLINIC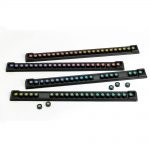 "COLOUR IN THE CLINIC" – FEBRUARY 1, 2023
Time
14:00 – 17:30
Admission
Free
Location
Virtual
Please join another "Colour in the Clinic" session where we discuss the science of colour vision and its application to visual disorders. "Colour in the Clinic" is hosted by the Eye Department of St Thomas' Hospital and sponsored by the Colour Group of Great Britain and the UK Neuro-Ophthalmology Society. Presenters will be as follows:
Professor John Barbur
Optics & Visual Science and Director of the Applied Vision Research Centre at City University London.
Professor Omar Mahroo
Retinal Neuroscience Professor at UCL, and a consultant ophthalmologist and retinal specialist at Moorfields Eye Hospital and St Thomas' Hospital
Hon Ass Prof Gordon Plant
Fellow of UCL Physicians and Ophthalmologists colleges, and a consultant Neurologist at the National Hospital for Neurology and Neurosurgery and the Moorfields Eye Hospital.
Professor Arnold Wilkins
Emeritus Professor Department of Psychology, University of Essex.
Professor Christopher Tyler
Professor at City University London and Visual Neuroscientist specializing in visual and oculomotor function and disorders.
Free tickets are available, please click on the eventbrite link below to register, and you will be sent joining instructions prior to the event