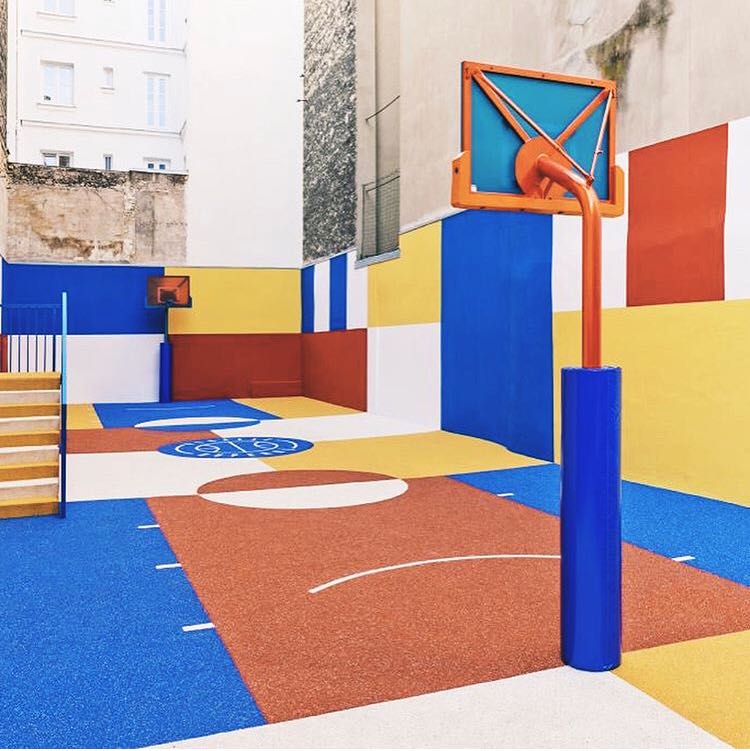 14 Jun

Hues that move: the power of colour on-court

Spotlight on _ Pigalle Court, Paris

This piece by Hanna Kahlert & Cath Carver was the runner up in the Colour Group (GB) prize for Outstanding Communication on Colour in 2021. A version of this piece first appeared in COLOURWORXX: Issue 1: PINK PORTALS | New multi-media exploration of colour from Colour Your City | colouryourcity.com/colourworxx-1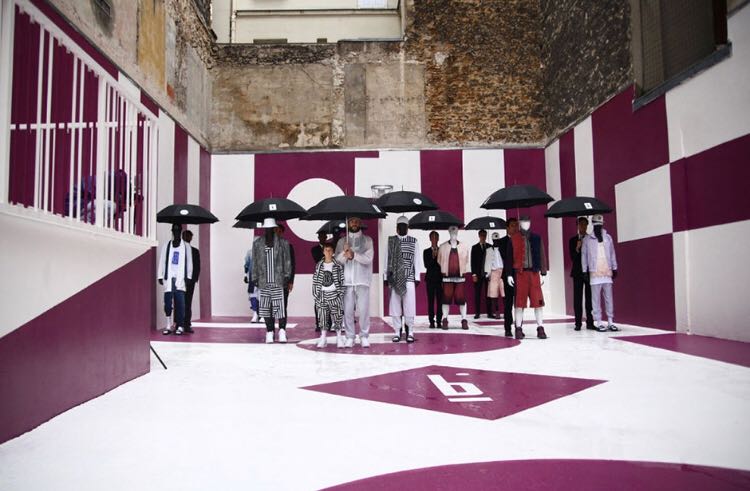 You may be familiar with the striking gradients of the Pigalle basketball court in Paris. An unevenly-shaped pocket of colour in an already-colourful city, it has been the site of influencer photo shoots and music videos; its image is more famous than its name.
It's roots, however, are much deeper. We interviewed Lionel Mok, who grew up in Pigalle and is heavily involved in the community around the court, to get his insights on the life and growth of this iconic renovation of a community space.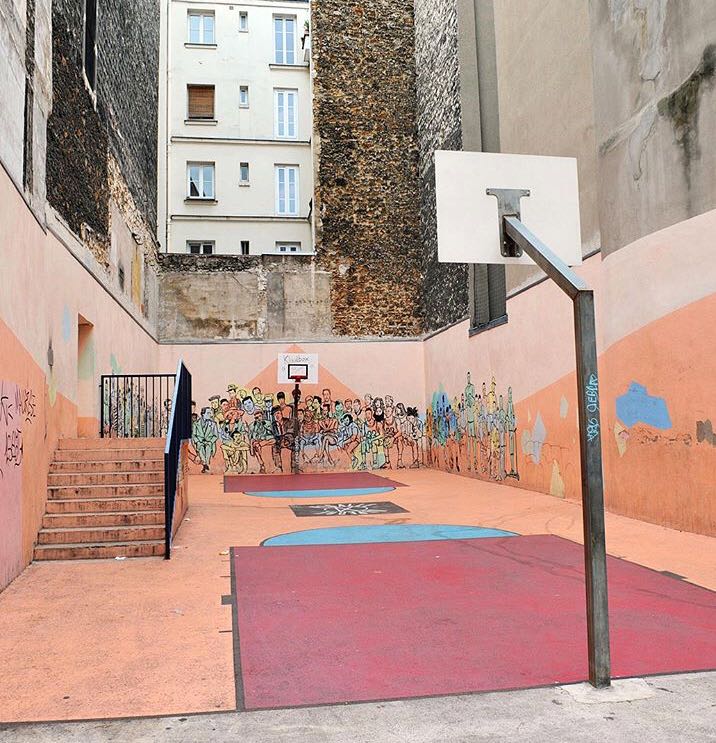 Situated in a "red light" district, the site was originally the parking lot to a neighbourhood school. While gentrification often turns grime into edge, for the local community – and for children especially – there was a need for a safe place for kids to gather outdoors and spend their energy productively; for families unable to afford expensive after school activities or weekend getaways, such open and safe public spaces are often the deciding factor in how their children's futures can map out.
"Generally the streets are full of people, full of kids. Kids are influenced by all the bad energy that can come from the Boulevard. So nine years ago we simply had the idea to ask City Hall to let us [use] this place to build something safe for these people… for example when I used to be younger my parents didn't have the money to send me to holidays, so I used to find a place to bring all of my energy – and that place used to be this court."
The parents formed an association – Pigalle jeunes des sports – and asked the Paris City Hall to turn the lot into a basketball court. The request was granted.
Then fate struck. The NBA was in Paris, and LeBron James happened to be passing through on his way to a hostel and noticed the kids playing in the court. He stopped by to play with them, and when he left the city an introduction to Nike had been made.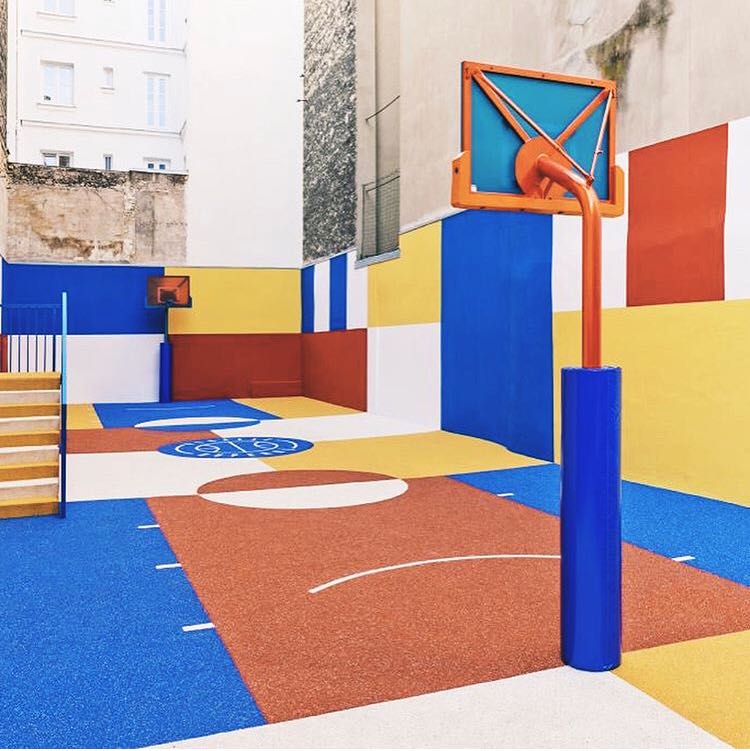 The first major addition to the court was the introduction of a recycled-shoe surface to muffle the loud noises for the sake of the community. Then the sports brand Pigalle, situated across the street, got involved. "We have the idea to bring something very colourful into the street to make people smile, simply."
"When you put colour on something grey, dark, it literally changes the thing and today because of those colours this place is not just a basketball court. Nine years ago this used to be a cheap place we used to play. Today thanks to – not because of but thanks to – this court we met a lot of people, we connect with a lot of brands, and for us it's just a basketball court."
Today, the court is on its second painted iteration and the designers have travelled around the world to help create new places for people to play sports – not for profit, but for the sake of making spaces safe and beautiful to play in for whole communities. The Pigalle basketball court is often beset upon by tourists and passersby keen to get their instagram photos or make short films, but the one rule of the court is that while it is open to everyone, it is – no matter how beautiful – first and foremost a basketball court, and when people are playing everyone else has to work around them.
"It's a mix because it's a living place… It's more than only a basketball court today; it's to generate and bring people together."
Because it is open to everyone, and because it has brought so much benefit to those who live there and so much admiration from afar, it has become a centrepiece of community and is well taken care of by the people around it. It has brought opportunity to the children who play there, and visibility to the district. It has also brought to the attention of the Parisian authorities the value of investing in community spaces, rather than simply profit-building ones, for the betterment of the people who live there.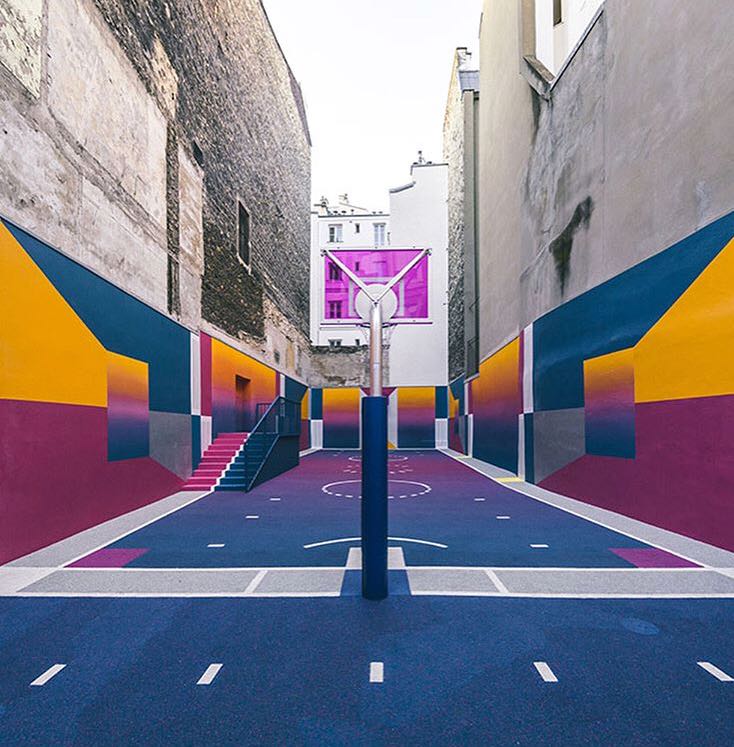 COLOURWORXX is a full-spectrum exploration of colour. A participatory colour adventure for a global audience, using colour to explore city, culture and spatial design. Composed of a multi-media magazine, radio show and artist commissions. COLOURWORXX is experimental, multi-disciplinary and cross-platform. Brought to you by Colour Your City, a visionary creative studio with a civic focus, using colour to transform cities, navigate place and explore culture.
This collaborative article was written by writer, analyst and painter Hanna Kahlert, edited and interviewed by interdisciplinary artist and founder of Colour Your City – Cath Carver, featuring an interview and photography from Lionel Mok at Pigalle in Paris.
More info: http://colouryourcity.com/
Hanna Kahlert: tumbleflakes.blogspot.co.uk | Instagram: @skye.doodles
Cath Carver: colouryourcity.com | Instagram: @colourcarver
Lionel Mok: lionelmok.com / Instagram: @lionel_mok