02 Oct

On Colour in Architecture: Designing, making, thinking, teaching 2-3 October 2023

Our 2023/24 programme starts with a half-day afternoon meeting in collaboration with the University of Edinburgh brings together designers, makers, researchers and educators working on aspects of architecture and the built environment. There are also opportunities to explore the colours of Edinburgh and to view some of the mosaic fragments from the University of Edinburgh Heritage Collections.

Please see below for the full programme of events: 
To attend the full programme please remember to register each of the events using the corresponding Eventbrite link.

2 October 2023
10.15- 12 Noon
Walking tour
Thomas Bak – The Colours of Edinburgh
Walking tour starts at Edinburgh University, George Square Campus, 7 George Square
This walking tour will focus on the colours of Edinburgh, from the ever-changing light of the notoriously unpredictable Scottish weather, through the yellow and red sandstone of its buildings, witnesses of Scotland's journey across the geological time, from the equator to North Atlantic, to the colours of modern city, sometimes reflecting its traditions, sometimes challenging them.
Dr Thomas H Bak (The University of Edinburgh) is a cognitive neuroscientist but also a fully qualified tourist guide. 

2 October 2023
Afternoon: 1.45- 5.15
On Colour in Architecture: Designing, making, thinking, teaching
A free half-day seminar hosted by the University of Edinburgh in collaboration with The Colour Group (GB) brings together designers, makers, researchers and educators working on aspects of architecture and the built environment.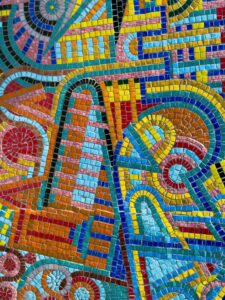 University of Edinburgh, 7 George Square, Room G32 Edinburgh Registration via Eventbrite
Please note that there are steps at the door to the venue. There is an alternative accessibility entrance, please contact the organisers for details.
1.30   Registration
1.45   Welcome – Jasna Martinovic and Fiona McLachlan
1.50   Adam Nathaniel Furman
Decorating the City: Four new works
Adam will talk about four new urban artworks that they have recently completed in London and Bristol, explaining them within the context of their broader practice, and within a trajectory of projects that seek to inject the craft of colour back into the contemporary British urban context.
Adam is an artist & designer based in London. Trained in architecture, Adam's atelier works in spatial design and art of all scales from video and prints to large public artworks, architecturally integrated ornament, as well as products, furniture, interiors, publishing and academia.
 Image: Mosaic 'A Thousand Streams' at London Bridge Station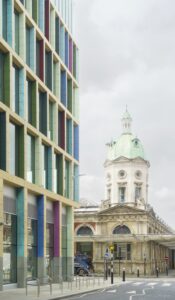 2.30   Peter Wood, RoyceWood
The revival of glazed ceramics on building facades
Using case studies of recent projects, Peter will discuss ceramic glazes for rainscreen cladding including technical challenges, aesthetic possibilities, and the potential for customisation and design flexibility created by the use of ceramic glazes in architecture.
Peter Wood established Royce Wood Studio in 1990, producing ceramic artwork for historic sites in the UK then developing his own ceramic glazes, including variegated glazes for unique pieces and a range handmade ceramic tiles. Coinciding with the revival in the use of ceramics in architecture, he was approached by architects to work on glazes for projects in the UK, Europe and the USA and is now one of a small number of ceramic glaze designers worldwide working exclusively with coloured ceramic glazes for architectural projects.
Image: Ceramic glazed façade the Kaleidoscope Building, London, PLP Architects with Roycewood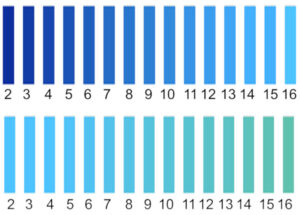 3.00   Jasna Martinovic, University of Edinburgh
Do colour categories affect our perception?
Colour categories have a special status, organising how we think about colour and how we remember it – but do they also affect the way in which we see them? While earlier scientific research was supportive of such Whorfian influences of language on perception, more recent studies present a much more nuanced view in which categories affect our judgments and memory but not perception itself.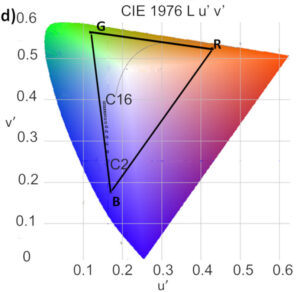 Jasna Martinovic is a Senior Lecturer at the School of Philosophy, Psychology and Language Sciences at the University of Edinburgh. Her research uses psychophysical and electrophysiological methods to investigate the processing of colour and luminance contrast and has been supported by a range of funders, including various UKRI bodies, the Wellcome Trust and the Royal Society.
3.30 – 4.00 Halstead-Granville Tea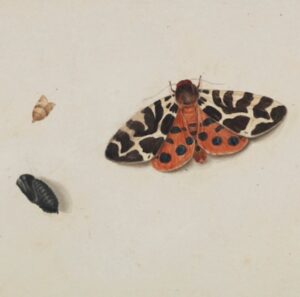 4.00   Joyce Dixon, University of Edinburgh
Chromatic materialities in the early nineteenth century: Werner's Nomenclature of Colours and Edinburgh
The chromatic dictionary Werner's Nomenclature of Colours (1814) – a handbook to the colours of the natural world, was compiled by the Scottish artist Patrick Syme. The book contains pasted-in swatches of colour, each associated with a colour name, a number and an example from each of the animal, vegetable and mineral kingdoms. Exploring the origins of Syme's book in the artistic, scientific and print cultures of early nineteenth-century Edinburgh, this talk will consider Werner's Nomenclature of Colours as both a colour system and a portable object, revealing the revolutionary technology it represents.
Joyce Dixon is a PhD Researcher at Edinburgh College of Art, based in History of Art and funded by the Arts and Humanities Research Council's Doctoral Training Partnership. Her research examines the artistic, scientific and print cultures of early nineteenth-century Edinburgh, through the lens of Werner's Nomenclature of Colours – a colour manual compiled in 1814 by the Edinburgh artist Patrick Syme. Joyce has a Master's degree in Critical Writing in Art and Design from the Royal College of Art.
Image: 'Larvae and a Moth', watercolour by Patrick Syme (undated) Image: National Galleries Scotland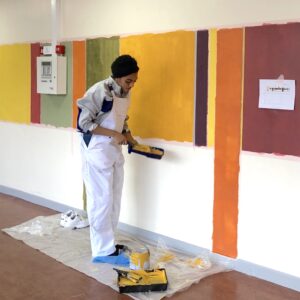 4.30   Fiona McLachlan, University of Edinburgh
On Teaching Colour for Architecture
Colour is known to be a neglected topic in architectural education. Drawing on her research and practice, Fiona has established an undergraduate course for architecture students at the University of Edinburgh. The talk will show the work of students and discuss her developing pedagogy for teaching colour.
Fiona McLachlan is Professor of Architectural Practice at the University of Edinburgh and is an architect and educator. She teaches architectural design and is a past Head of the Edinburgh School of Architecture and Landscape Architecture (ESALA). She has published three books on colour: Architectural Colour in the Professional Palette, (2012), stimulated by the work of her own architectural practice- E & F McLachlan Architects -over a thirty-year period; Colour Strategies in Architecture, (2015), co-authored with the Haus der Farbe, Zurich and Colour beyond the surface: Art in Architecture (2022). 
Image: Student volunteer working on a wall painting 'Autumn' by Fiona McLachlan at the Royal Edinburgh Hospital

Tuesday 3 October
10.00-10.45
Mosaic Fragments: University Library Special Collections, George Square
A chance to view some of the salvaged fragments of Eduardo Paolozzi's colourful Tottenham Court Road mosaic, London held in the University of Edinburgh Heritage Collections
[Numbers limited to 15]