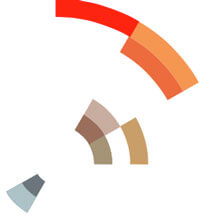 08 Nov

WHAT COLOURS ON OUR HOME PAGE?

[NOTE:refers to previous website]

The strip on the left that runs down for some way is an analysis of what colours appear on our Home Page, the length of a colour being the proportion of colours on the page. Another way to show our 'colours' is above right where the colours used are shown on the colour wheel. The analysis is by http://webcolourdata.com and their site is worth a visit where you will see Hacker News pages are mainly friendly orange and those of Printerest annoyingly red.